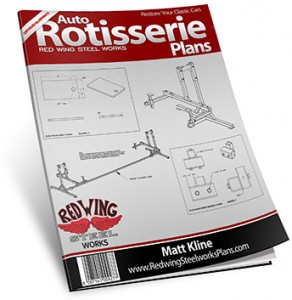 Below you will find the auto rotisserie plans with a capacity of 3000 lbs. Auto rotisseries or (as some call them) car rotisseries are a relatively niche product but, over the years I am truly amazed at the number of people building these things. That can only mean one thing, There are a lot of very nice looking street rods and muscle cars out there. Red Wing Steel Works got it's start building restoration products and these auto rotisserie plans are the end result of many days and hours of trial and error to get the perfect balance of usability vs cost. I think we've done that with this model in the plans below. I hope you think so too.
Just follow the plans and you will have a nice rotisserie when you are done. I put all the important information in the building notes and you will also find a full material and cut list.
Have fun building and good luck with your restoration project.
Click the link below for a printable PDF.