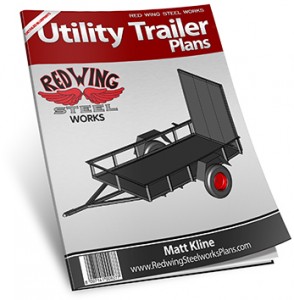 The plans below are for a 6′ x 10′ utility trailer. Much like the 5′ x 8′ version, I would consider this to be a standard duty utility trailer and it is one of the most affordable styles you can build. I will say that this style of utility trailer will be plenty strong and capable and I would not go any bigger. In order to go with larger dimensions, the materials should be changed to a heavier duty style such as a square tube or channel iron frame. Someday given enough time I will add a heavy duty utility trailer to the list of free plans.
The trailer is designed to use a single 3500 lb. axle with no need for a brake (since it's a single axle). There are many resources at your fingertips to use while building this trailer. I have a 1 hour and 10 minute video that shows the complete build from start to finish. I also have plenty of pictures that were taken as I was building the trailer also.
The trailer plans come with a complete cut list, a full material list and a handful of key building notes to top everything off. In the notes I refer back to the video numerous times. I really feel that this will make life much easier especially if you've never taken on a project like this before. I also mention a few places to shop for an axle in the notes. These are just some suggestions and I am in no way affiliated with these companies. They are just some good resources and have a lot of information about axles on their websites. I also did a short video about how to measure and order the right axle.
Please enjoy and good luck building your new utility trailer.
Click the link below for a printable PDF.
Red Wing Steel Works 6×10 Utility Trailer Plans